Ken and Jerry Launch a website!
July 4, 2007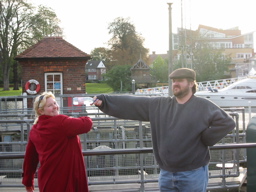 We would like to welcome all you weary internet wanderers to our little corner of the world wide web… (Friends and family, please create an account to access information about the wedding!)
When we found ourselves engaged, we decided to launch a website to not only keep wedding guests informed of the details of the nuptials (registered users only) but to also to let everyone keep tabs on our new life together (home, work, travel, &c…)
We hope that you'll drop by and visit us every now and then.