Honeymoon: Day Five – Scots Wha Hae
March 24, 2008
Watch out Scotland, Ken's driving in your country!!! Now that we're done with the public service message, here's the entry for the day… As mentioned before, Kennels Cottage in Dollarbeg is just fantastic. It's a B&B, which means you get a place to sleep and a bit to eat in the morning. The room was large – especially by UK standards – and the bath roomy with a tub long enough to accommodate Ken's length. And the bed was soft and cushy, and the room kept warm despite the freezing cold outside. The breakfast was a fabulous start to the day, a selection of pancakes, eggs, bacon, ham, full English, orange juice, tea and coffee.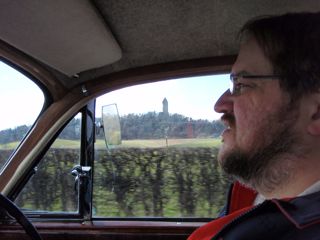 Breakfast was followed by our introduction to the Jaguar MK 2. A lovely classic car that we hired from Kennels Cottage's other business: Caledonian Classics. The car itself was beautiful, if not a little quirky – like how easy it is to put it in reverse when you mean to put it in first. Alex, the operator of Caledonian Classics, gave us the tour of the car, took us out on a short drive and had Ken drive back to the cottage. Alex was pleased that Ken had experience driving a manual geared right hand drive (many Americans have come over without any manual gear experience.) He also joked about Ken having experience in walking because he drives a classic British car back home…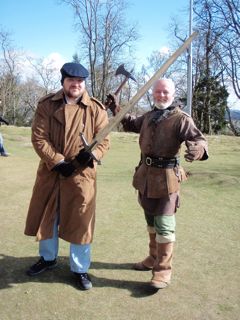 From this point, we were on our own. Navigating the narrow roads, and confusing roundabouts, of Scotland. First stop: The Wallace Monument. A fairly recent construction (sometime in the later part of the 1800s) the monument over looks the location of a critical victory that Wallace led the Scots to at Abbey Craig. The construction includes a tower which takes 246 steps up a spiraling stone stair case (nothing in contrast to Jerry's journey up the 530 steps to the top of St. Pauls Cathedral in London, which she did last time we came to the UK…) There was also an actor doing the history of the battle from the point of view of one of Wallace's soldiers – that was great, and Ken got to wield a big old broadsword…
After the monument we went on a drive to Sterling Castle, but took a few wrong turns off of the roundabouts (Ken would do well, if the first road off the roundabout was the road we needed…) When we got there, there was no parking and the place was crowded.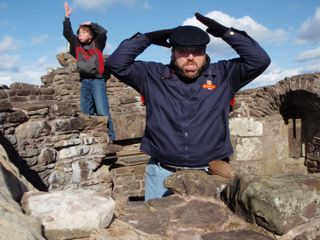 We then decided to travel to a silly place, which is only a model. Yes, the castle used in the classic Monty Python film "Monty Python and the Holy Grail" – Doune Castle. The castle was used for all the actual castle scenes (except for some of the long off castle shots, which were with a cardboard picture of a castle…) The castle staff are knowledgeable on the Python connection, which account for at least half of their business, and they'll gladly loan you a set of coconut shells to go clip clopping about with. Actually the shells also serve as a signal to others who the loonies are and who are the other people. This helped us discover a family of Python fans who were American (but have been living in Europe for a while.) It was nice to see the youth of today with a great interest in Python…
It was starting to approach late afternoon, so we drove off to Callendar – found a car park, and walked up the road to our luncheon destination. Afterwards we did a bit of shopping, and a stop at a cashpoint…
But wanted to hit a distillery, and chose to go to the Dewars factory in Aberfeldy. Unfortunately this was the Easter bank holiday weekend (since Good Friday, actually) so they were closed. While in the parking lot, Ken twisted his knee while getting out of the Jag (adding this to make two injuries acquired on the trip so far…)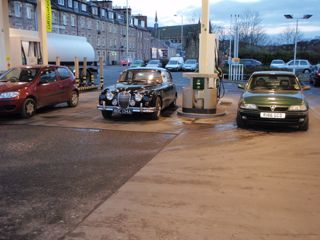 It was getting late, and we were going to want dinner – and petrol for the car. We continued along out to Perth, where we filled up the car – but Ken still was having problems with right turns and we just ended up getting out of Perth and onto the motorway. At this point we decided to try getting our dinner at the Gleneagles luxury hotel (and famous golf course.) They were full up, and we weren't dressed for the classy restaurant. Discouraged, and becoming ravenous, we went into a nearby town where everything was shut…
One last ditch effort was made by going into our near-home-base town of Dollar. Like many other places, most of the town was shut – but the hotel pub was still serving food. After our fiasco with Dewars earlier, Jerry ordered a dram of Scotch – but anything except Dewars!
Back to home base to decompress from the day. It was full of excitement, heartbreak, some stress, and – did I mention – some snow…
Tomorrow, more driving in Scotland!