Honeymoon: Day Thirteen – The City Pubs (The St. Albans Pub Song)
April 1, 2008
Today was moving day, since tomorrow's our flight back home. But it was an enjoyable detour, and not a straight move to our hotel, today… First of all, we had our final breakfast at Twenty Nevern Square. It's a nice continental affair, with cereals, pastries, yoghourt, and cheese. Then we checked out, and waited for our ride, which was in the form of Ann, an old family friend. We were picked up, and managed to cram all thee of us and our luggage into the small car (which was a little worrying, in that the return trip will have one more passenger!) Then the fun of getting out of Earls Court, out of London and up to St. Albans. The one way streets have a way of causing confusion, but we managed to get out to the main road. This was never a problem for us before, as we walked or rode the tube, but now we have a greater appreciation for what Londoners put up with.
Once out on the motorway, and rapidly departing London, we made our way to St. Albans – which was the second largest town in Britain during Roman times (back then it was known as Verulamium) and is the current home to our host and her husband. Once in St Albans, and at our host's home, we went out to lunch – which involved a walk down the hill to the Waffle House (no relation to the similarly named restaurants in the US) which sits on a river in an old mill.
On the way to lunch, besides passing the numerous pubs that St Albans is renowned for (apparently it's one of several towns claiming the title of "most pubs per square mile") we also walked down a street with an incredibly high curb. This was, apparently, because the street used to be lined with inns, and the carriages could pull strait up to the curb and the passengers wouldn't have to climb down. Great idea, but not so useful today as cars – let alone their doors – can barely clear their height.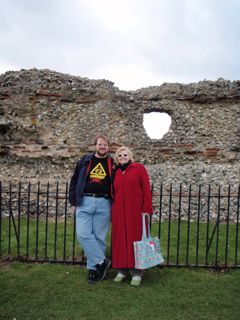 After lunch we made our way to the Verulamium Museum, of which the prior director of was responsible for the recent renovation of the London Transport Museum, and who is the father of one of the Puppini Sisters (who our hosts were off to see perform after they deposited us…) The museum displays many ancient Roman artifacts, even including skeletal remains. There's also varied exhibits about life (and even death) in Roman times.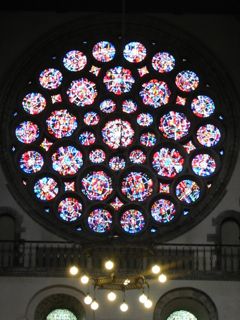 After the museum we walked through the park and saw an ancient wall that had been unearthed, then up the hill to the abbey (well, it's a cathedral now…) Full of great architecture (a bit of different styles over the years) and lovely stained glass windows (one of which was dedicated by the late Princess Diana…) and all the memorial stones all over the place, as many cathedrals have.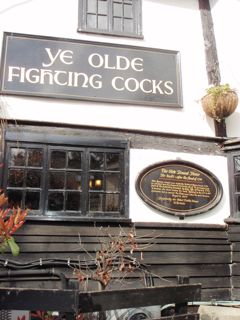 Other pub related trivia, St Albans is one of a few towns claiming the oldest pub in England title with Ye Olde Fighting Cocks – which was titled so due to the sport that would take place in the main bar! We passed this on the way to the Abbey. But now it was time to pass more pubs on the way back to the house – and our ride back into London and our new hotel near Heathrow.
To make room for Ann's husband, we cleared out some car repair items from the boot to accommodate the luggage more effectively. With this done, we all piled into the car and sped off to London. Unfortunately, it was leading into the evening commute and around Heathrow it wasn't too pleasant – especially at one busy roundabout. Working with an A-Z, we eventually managed to make our way to the Jury's Inn at Hatton Cross. Our hosts deposited us at the front door and sped off to their concert, while we checked in and settled down for our final night.
We made our way back down for dinner, and then back up to completely rearrange our luggage for the trip home. After a bit of work and watching some telly, we went to sleep to ready ourselves for the morning at the airport…